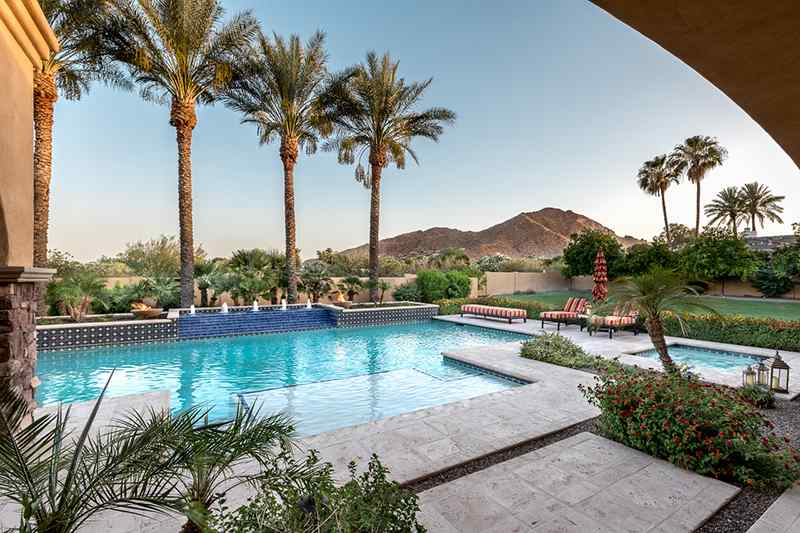 Flanked by mountains and awe-inspiring natural scenery, Paradise Valley clearly lives up to its name. But it's by no means a remote rural area cut off from big-city attractions. This suburb's proximity to both Phoenix and Scottsdale offers convenient access to the comforts of modern living.
Serious about getting a piece of real estate in Paradise Valley? This quick buyers guide is for you.
Know your real estate prospects in Paradise Valley, AZ.

Homes go up for sale from $300,000 to well over $16 million in Paradise Valley. As of July 2023, the median listing price is just shy of $5 million. You'll find a range of property types in the market, from single-family homes to a selection of condos and townhomes.

If square footage is your main priority, there's plenty to be had in Paradise Valley. Available homes for sale are spacious, suitable for those who love being surrounded by an assortment of amenities or home buddies who prefer that extra patio and yard space.

With in-demand homes rarely dipping below the million dollar mark, the suburb frequently attracts the affluent, including celebrities looking for a tranquil neighborhood packed with modern conveniences. Some of the priciest homes are lavish multi-acre estates with unobstructed views of nearby natural landmarks like Camelback Mountain.

Go beyond the listing photos.

Sometimes one look at a listing tells you all you need to know about whether or not a home is the right one for you. But there can also be intuitive factors that are only apparent after seeing the home in person – including initial impressions when you first step inside the house, to the functionality of the kitchen layout.

Once you've made a shortlist of potential properties, arrange to check out the homes. Consider hiring an agent to accompany you as well, so you can spot anything that may be amiss. Additionally, before visiting, do a quick Google search of the area to see what's in the immediate vicinity of the property.

Don't obsess over perfection.

Competition can be fierce in Paradise Valley, where it was still a seller's market as of July 2023. Finding that perfect home that has all the bells and whistles is usually easier said than done. If you take too long to make a move, you might be dragging the home search for months.

It may feel counterintuitive, but settling on a home that has all your non-negotiable may be the best decision in the long-term. With a home that has good bones, there's plenty of room for you to mold it into your ideal space and introduce value-adding improvements down the line.

Work with a reputable Realtor.

While it is important to know your market, go beyond listing photos, and not obsess over perfection, it's as important to work with a professional Realtor in your area.

And why not? A local Realtor with a solid reputation and unimpeachable track record will take the guesswork out of your search. Once you know that these pros have earned their standing in the community and all the awards they've been honored with, you'll save time, shed many of your worries, and know they have your best interest at heart.

They can also open the door to "pocket listings," or unlisted properties known only to agents who discretely advertise to qualified buyers based on direct inquiries. Thus, they'll expand your options should they find an unlisted property that checks many of your boxes.

Of course, even with an agent by your side, it also pays to do your own research on the property you hope to buy. Checking current home values here and learning more about the community will help you move forward with more confidence.
Learn more about Paradise Valley, AZ by consulting seasoned real estate agent Julie Pelle. Get in touch with her by phone or via email for a private consultation.