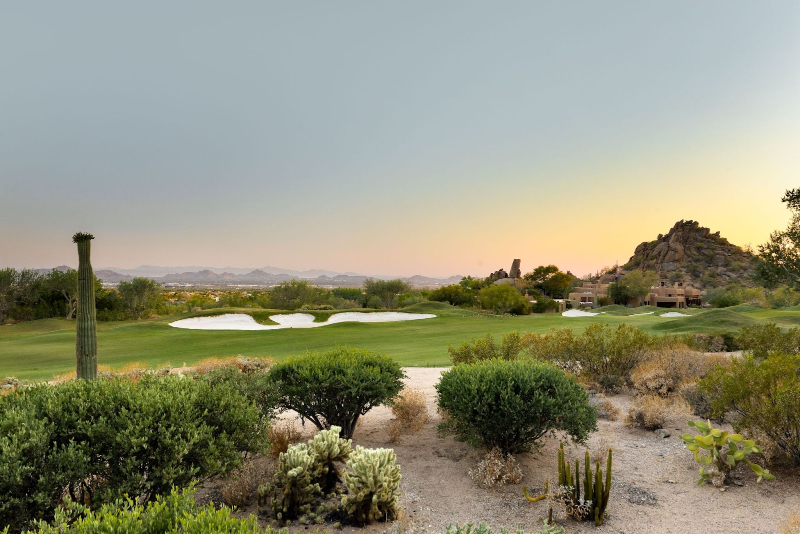 When investing in luxury homes for sale in Scottsdale, AZ, location is just as important as the property itself. Whether you intend to use the home as a high-end rental or a private residence, here are some communities worth considering.
Nestled in the foothills of the McDowell Mountains, Scottsdale offers luxury real estate amidst the breathtaking landscape of the Sonoran Desert. Known for world-class golf, upscale resorts, and perfect weather, the city appeals to affluent and discerning buyers.
Incorporated in 1951, Scottsdale considers itself "The West's Most Western Town". With a population of 242,753 as of 2021, the city has seen remarkable growth since its founding. Its colorful heritage and relaxed atmosphere makes it one of the most desirable places to live in the eastern portion of Maricopa County.
Spanning 184.4 square miles, the city is divided into 3 main areas, namely North, South and Central or Main which includes iconic Old Town. Within these areas, you'll find a combination of established neighborhoods and newer developments offering a wide variety of housing options. Many of these communities provide ready access to parks, golf courses, community centers, and other amenities.
Table of Content
THE BEST LUXURY NEIGHBORHOODS IN SCOTTSDALE, ARIZONA
Real estate is all about "location, location, location" and this is particularly true for luxury properties. While it is possible to renovate or tear down an existing home to make way for a new one, it is not possible to change the location of the land on which it sits. When it comes to the high end of the market, location plays a key role in value and desirability.
And in Scottsdale, there's no location more sought-after than North Scottsdale. This is where you'll find many of the most beautiful and highly valued luxury homes for sale available in the market today. 
Situated north of Old Town and with the sprawling McDowell Mountain Regional Park to its east, North Scottsdale boasts exceptional desert views along with world-class golf, upscale shopping and dining, exclusive neighborhoods, well-regarded schools, and a thriving mixed-use business center (Scottsdale Airpark). Among its many attractions is Frank Lloyd Wright's iconic Taliesin West, now a UNESCO World Heritage site.
LUXURY NEIGHBORHOODS TO EXPLORE
If you're looking for luxury homes for sale in Scottsdale, AZ, here are some upscale communities worth looking into.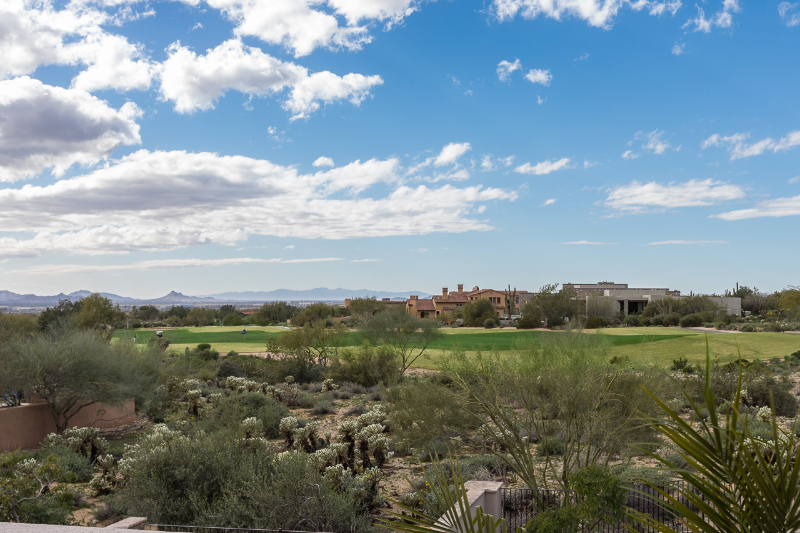 DC Ranch encompasses over 4,400 acres next to the McDowell Sonoran Preserve. As a premier golf community in North Scottsdale, it offers first rate amenities and exquisitely crafted homes amidst stunning natural scenery. The community is divided into four villages with shared open spaces:
Country Club
Desert Camp
Desert Park
Silverleaf
There are 26 neighborhoods and over 2,800 homes within these villages. The homes in the community offer a seamless flow between indoor and outdoor spaces to help residents enjoy North Scottsdale's desert setting. 
Buyers can choose from a fine selection of custom homes, semi-custom homes, estate-style properties, single-family properties, townhomes, patio homes, and apartments. Some of the most desirable homes in the community offer views of Scottsdale and Phoenix. 
With more than 7,000 residents, DC Ranch provides access to more than 33 miles of recreational paths in addition to two community centers with pools, splash pads, and fitness facilities. Other highlights include: 
The Country Club at DC Ranch
Canyon Village
DC Ranch Crossing
Market Street
Established in 1983, Desert Highlands is best known for its Jack Nicklaus-designed golf course and Gary Panks-designed putting course. It also hosted the inaugural Skins Game with some of the biggest names in golf. Aside from golf, the community provides access to a swimming pool, sundeck, fitness center, and tennis and pickleball courts.
In addition to extensive amenities, the community offers a selection of patio homes and single-family properties with Modern, Mediterranean, and Adobe-style architecture. Some of the finest custom homes and homesites in the community offer sweeping views of the fairways, mountains, and city skyline.
Desert Mountain is a private country club and residential community spanning over 8,300 acres in North Scottsdale. It boasts of having seven Jack Nicklaus-designed golf courses set amidst the rugged terrain of the Sonoran Desert. Other amenities include over 15 miles of scenic hiking trails, several clubhouses, spa, cafe market, and restaurants. 
Desert Mountain real estate is no less impressive – you can choose from an array of custom homes, patio homes, cottages, villas, estate-style properties, and custom homesites across 33 villages. Some of the most coveted homes in the community offer views of the mountains and fairways. 
Founded in 1995, Estancia is a premier gated community spanning over 640 acres on the northern slope of Pinnacle Peak. Located in the high Sonoran desert, it features an exclusive selection of just 39 homes within the La Scala subdivision and an additional 225 estate and custom home lots throughout the community.
The Estancia Golf Club is the crowning jewel of the community. It features a Tom Fazio-designed championship golf course with bent grass greens and panoramic desert views. Golf Digest ranked the 18-hole golf course among America's 100 Greatest Golf Courses from 2005 through 2021. The club also has a swimming pool, fitness center, and tennis, pickleball, and basketball courts. 
As one of the most sought-after gated communities in North Scottsdale, Glenn Moor features an exclusive selection of 140 homes. Some of the most desirable homes in the community command views of lush fairways, manicured greens, and the city skyline. Located at the north end of the McDowell Mountain Range, the community is surrounded by breathtaking scenery. Residents have ready access to the Troon Country Club, which features an impeccably maintained golf course, fitness center, lap pool, and poolside grill.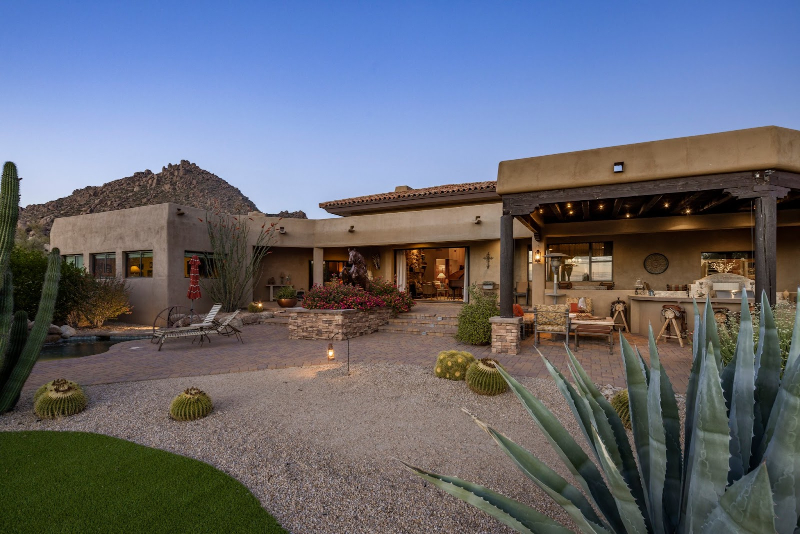 Pinnacle Peak Country Club Estates
This prestigious golf community is located near vibrant shopping and dining in the Pinnacle Peak corridor. With stunning views of Pinnacle Peak and the McDowell Mountains, this upscale community offers a collection of custom-built homes in North Scottsdale. The Pinnacle Peak Country Club features a parkland-style golf course designed by Dick Turner. It also has a swimming pool, fitness center, tennis courts, and clubhouse with on-site dining and socials.
Tucked away in the canyons of the McDowell Mountains, this gated community and private country club offers privacy and seclusion amidst the natural beauty of the McDowell Sonoran Preserve. Located in North Scottsdale, it offers a wide range of upscale homes, including custom multimillion-dollar estates, modern multi-level builds, and casita homes and villas in luxury family communities. Select homes offer views of the surrounding mountains and the city skyline.
The Silverleaf Club features an 18-hole championship golf course designed by Tom Weiskopf. It also has a 50,000 square-foot Mediterranean-style clubhouse with swimming pools, spa facilities, locker rooms, and on-site dining.
This gated community in North Scottsdale offers more than 300 custom homes and acre lots in the scenic desert with native plants and open skies. The community owns the Lone Mountain, which is situated on an 80-acre preserve with over 4.5 miles of hiking trails and spectacular views of Scottsdale and the nearby cities of Carefree and Phoenix. In addition to having plenty of outdoor space, Sincuidados also features a clubhouse and tennis, pickleball and basketball courts.
Whisper Rock Estates

This 800-acre private community features over 200 homesites in North Scottsdale. Its large homesites span one to five acres in size. Here you'll find custom homes and an exclusive collection of 17 villas with Southwestern architecture that blends seamlessly into the natural landscape of the Sonoran Desert.
In addition to gorgeous homes, Whisper Rock Estates offers 36 holes of golf with the Tom Fazio-designed Upper Course and the Phil Mickelson and Gary
Stephenson-designed Lower Course. Residents also have access to a three-acre desert park, recreational turf area, lap pool, spa, fitness facility, basketball court, and two sunken tennis courts. 
Windgate Ranch is a private community with over 700 semi-custom homes in a variety of architectural styles. You can choose between single-level and two-story detached homes offering thousands of square feet of living space. In addition to luxury real estate, residents enjoy a high quality of life with about six acres of green space as well as several walking trails, playgrounds, picnic shelters, and tennis, pickleball, basketball, and sand volleyball courts. Residents also have access to a clubhouse with a full kitchen and patio as well as three pools, spas, and poolside cabanas.
This residential development includes Troon North, Troon Village, Glenn Moor and many other gated communities.  Located in North Scottsdale, Troon is a 1,400-acre master-planned community encircling Troon Mountain. It encompasses numerous upscale neighborhoods offering single-family homes, and custom lots along with extensive golf facilities and other resort-style amenities amidst a rugged desert landscape.
Troon North is widely considered to be one of the best golf communities in Arizona. It offers a wealth of custom homes, townhomes, and golf course homes. It is also home to the lavish Four Seasons Resort Scottsdale, which features elegantly appointed suites, spa services, and on-site dining.
Troon offers the ultimate desert lifestyle with golfing, hiking, and biking. Residents also have access to nearby Pinnacle Peak Mountain Preserve for more outdoor activities.
Sereno Canyon
Set amidst the McDowell Mountains and Tom's Thumb, this gated community offers new construction homes with stunning mountain and desert views. It also features a host of resort-style amenities, including a spa, cafe, fire pit, fitness center, swimming pools, and outdoor gathering areas. Other highlights include the Mountain House Lodge, which offers extensive private amenities for residents to enjoy.
As a fine example of luxury living in North Scottsdale, Sereno Canyon real estate includes large estate-style properties, single-family homes, and attached villas.
The community also offers a diverse range of architectural styles, including Mission, Prairie, Modern, Contemporary, and Desert Contemporary.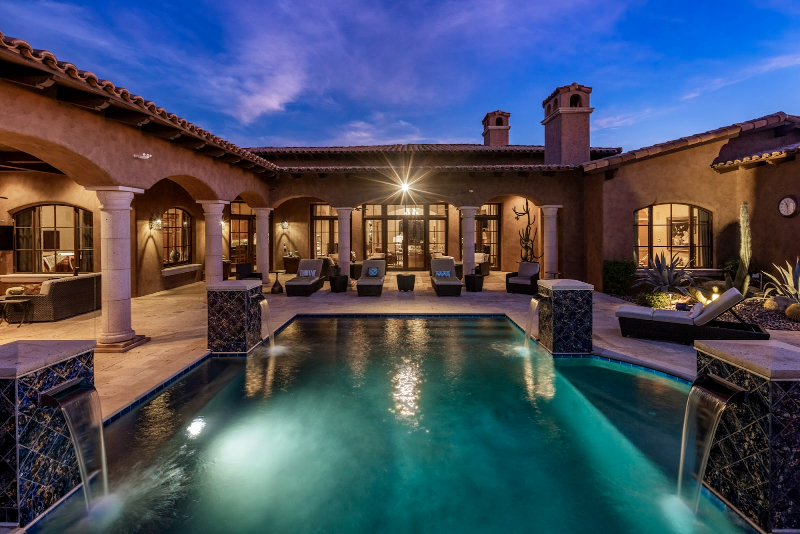 Story Rock
Storyrock is a master planned community and luxury enclave adjoining the McDowell Sonoran Preserve. It features a sustainable master plan that minimizes impact on the Preserve with over 50% natural areas, several protected wildlife corridors, and a scenic corridor on 128th Street.
The community is also free of intense light pollution With over 300 clear night skies each year, it offers the best conditions for stargazing. During the day, residents are treated to views of the Tonto National Forest and the majestic mountain ranges of North Scottsdale.
As for real estate, the community offers homes by leading luxury builders David Weekley Homes, Rosewood Homes, and Shea Homes. There are a total of 282 homesites spread across several subdivisions within StoryRock. You can choose from a variety of models, floor plans, and finishes depending on the builder.
Solitude
Solitude offers privacy and seclusion in North Scottsdale. Located south of Happy Valley Road, this gated community offers semi-custom homes offering up to 5,900 square feet of living space.
Phase 1 of the development features a limited selection of 16 residential lots and single-family homes with Contemporary-style architecture and modern interiors. Each homesite measures roughly more than an acre. Many residential lots have provisions for an optional 990-square foot guest house.
Phase 2 offers 17 semi-custom homes. Base homes feature wooden floors, high-end appliances, and three-car garages. Some homes offer mountain views.
The Boulders
Nestled in the scenic Sonoran Desert, The Boulders is an established community straddling the areas of Carefree and North Scottsdale. It is home to the Boulders Resort and Spa, which offers lavish accommodations and spa facilities for relaxation
Known for luxury real estate, The Boulders offers lock-and-leave patio homes, casitas, and custom homes on spacious lots. Some homesites offer views of the nearby mountains and city skyline.
Mirabel
This gated community features a private golf club and luxury homes with views of the Continental Mountain Range and Pinnacle Peak. It spans over 700 acres at the north end of Scottsdale and the southern edge of Cave Creek Road. There are about 345 custom and semi-custom homes in the community, giving buyers plenty of options to choose from. 
Prado Estates
Located along Pinnacle Peak in North Scottsdale, this community offers just 18 homesites, giving residents plenty of privacy. Real estate options include custom homes on multi-acre lots with enough space for  multi-car garages and other amenities. Prado Estates also offers fantastic views of the city skyline as well as nearby Pinnacle Peak and the McDowell Mountains.
PLANNING TO MOVE TO SCOTTSDALE, AZ
Once you know where to live in Scottsdale, you can start planning the day of the move. Whether you plan on living in the city on a seasonal or full-time basis, you'll want to furnish your new home with housewares, furniture, decor, and artwork of your choosing.
If you're transporting valuable items from another city or from out of state, you'll need to work with a moving company. They will make sure that your belongings are handled and transported with reasonable care. Choose a fully-licensed and insured company that is willing to provide a quote or estimate for the move.
WORKING WITH A LUXURY REAL ESTATE EXPERT
Get in touch with a luxury real estate expert with in-depth knowledge of the local housing market. They will provide reliable information on exclusive communities and luxury homes for sale in Scottsdale, AZ. A well-connected real estate professional can also grant access to off-market listings to help you cast a wider net during the property search.
Luxury real estate experts are very particular about service quality and discretion when facilitating high-value transactions. When you work with an experienced professional, you can look forward to personalized service, proactive communication, and utmost confidentiality. This will give you peace of mind when looking for a suitable home in Scottsdale and deciding which community best reflects your values and lifestyle. 
If you have any questions or concerns about financing, inspections, paperwork, and other aspects of the home buying process, a real estate agent will offer professional guidance and help you navigate the transaction. 
GET IN TOUCH WITH JULIE PELLE
Find only the very best luxury homes for sale in Scottsdale, AZ when you work with Julie Pelle. You can reach her at 480.323.6763 or send a message to schedule a consultation. As a luxury Realtor specializing in North Scottsdale, Julie has over 20 years of professional experience in handling land sales, high-end homes, and golf course properties. 
With a focus on relationships, Julie offers personalized service and takes pride in the fact that nearly 100% of her business is based on referrals. Contact her today for more information.